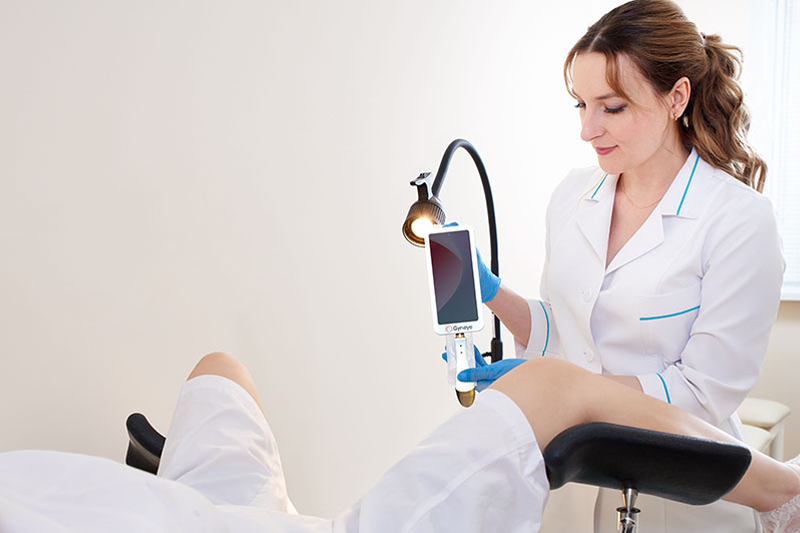 Gyneye is a comprehensive smart colposcope allows you to detect cervical lesions efficiently, streamline clinical workflows and introduce care-coordination features that allow you to conduct , record and review patient cases.
The simplicity and portability of the technology provide the healthcare workers and physicians to operate Gyneye in any kind of practice settings.'
State-of-the-art, CE certified, mobile-base portable colposcope with an all-in-one ergonomic design

Built-in high-resolution camera for exam videos and images and an additional ability to save images

HL7 compliant and FHIR-enabled and can be interfaced easily to other hospital management systems or API

Integrated with telemedicine for virtual consultations.

Referral Management System
Gyneye Application & Portal
Capturing the patients' clinical record in a HIPAA- compliant Cloud-based EMR, allowing you to document cases, revisit records, add annotations.

Clinical decision tracking with Swede score.

Patient consent

Integrated Telemedicine platform for remote connectivity
To further the abilities of healthcare workers, the Gyneye Team is currently working on a computer-aided module for the detection of cervical cancer. This intervention will enable a wide range of healthcare workers to detect cervical lesions effectively and hence allow scaling up of cervical cancer screening programs.